A NEW CAB THAT'S JUST AS TOUGH AS OUR EXPECTATIONS.
Constructed from a premium-grade aluminum and enhanced with steel reinforcements, the new X-Series cab was designed to meet the demanding requirements we're always had for our cabs. Light, safe, strong and spacious so that it can help protect and retain operators while delivering greater payload and uptime for a variety of demanding applications including dump trucks, concrete mixers, log trucks and heavy haul.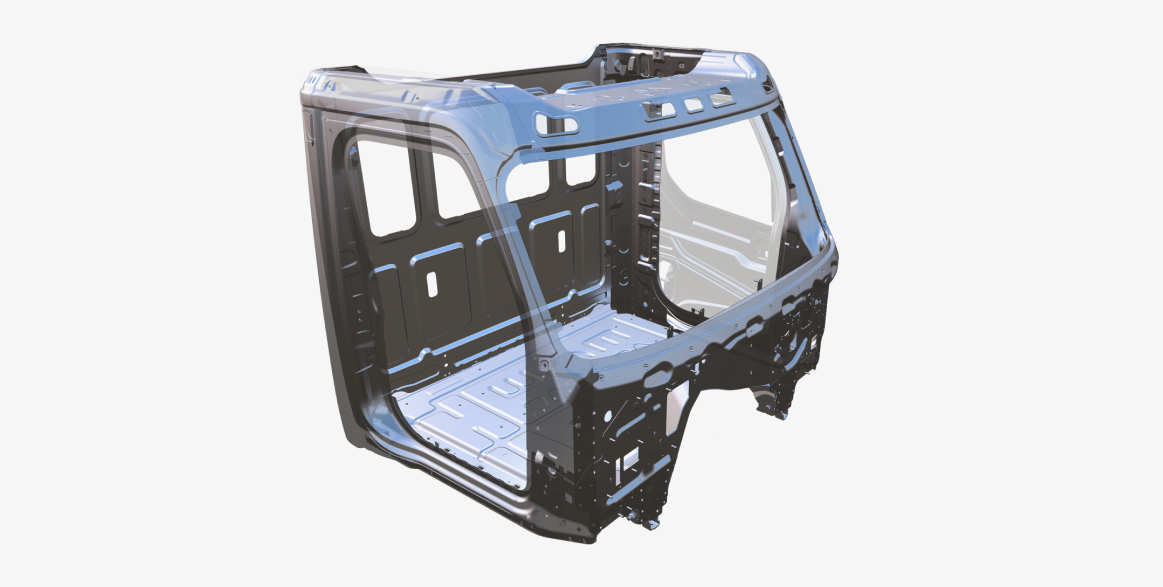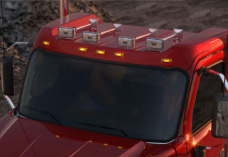 Trench Style Low Roof
Composite roof with a lowered center section enables optimized packaging of overcab equipment, minimizing overall vehicle height, while maximizing interior headroom and door openings.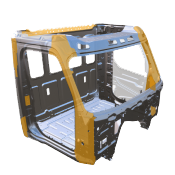 Structural Optimization
Our engineers used state-of-the-art technology to place structural material and reinforcements strategically to minimize weight while maximizing toughness and safety.
• Backwall Header Reinforcement
• Increased A-Pillar Section Size and Strength
• B-Pillar Reinforcement
• Hinge Reinforcements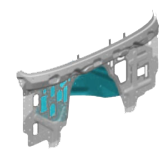 Engine Tunnel
Quiet Steel®* engine tunnel reduces engine noise intrusion into the cab to provide a premium operating environment.

*Quiet Steel is a registered trademark of Material Sciences Corporation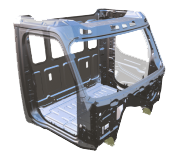 Vocational Tuned Cab Mount System
The X-Series cab mount system features vocationally tuned cab isolators designed to reduce operator fatigue by providing optimal cab stability, helping deliver the incredibly comfortable ride Western Star is known for.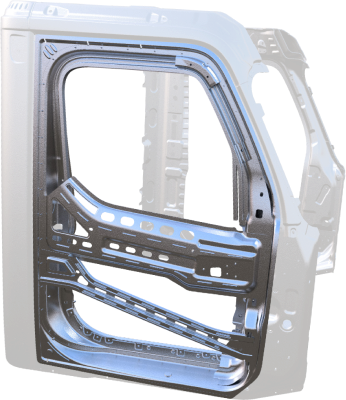 47X Door
The X-Series Door
The X-Series door is designed as an integral part of the steel-reinforced aluminum cab structure. Built from rugged steel and designed to be easy to service, it will deliver greater uptime and operator comfort for years to come.
We designed our new mirrors to deliver what your operators need and more, with features that enhance visibility, reduce operator fatigue, improve safety and increase uptime. You'll never look at a mirror the same way again.
Mirrors are mounted to steel door reinforcements which adds strength to support weight from mounted lights, as well as stiffness to avoid low-frequency and low-engine speed vibrations to maximize operator visibility.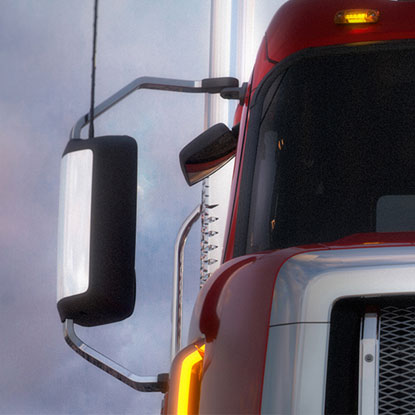 Reduced profile for greater forward visibility and reduced resistance.
Optional easy-to-see integrated signals in the lower convex mirror offer added safety for operators and other motorists.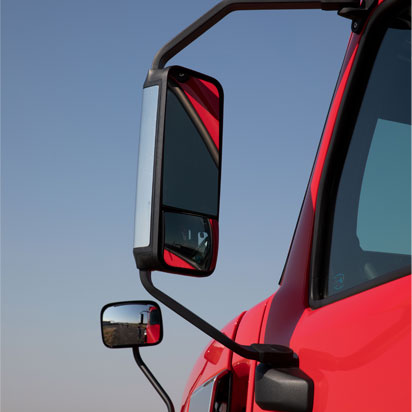 Standard mirror heating system keeps mirrors free from frost and snow.
Getting in and out of the cab is a big part of any vocational operator's day. To make it easier and safer, the 47X offers a number of features and improvements.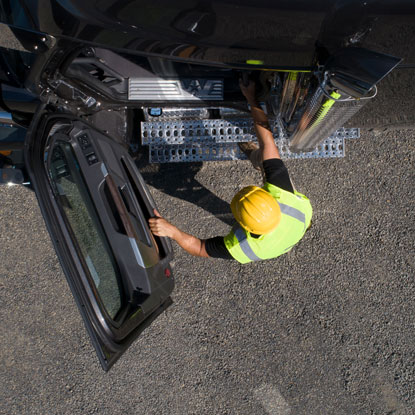 Expansive door opening area with wide 70-degree opening angle to ease ingress and egress for the largest operators.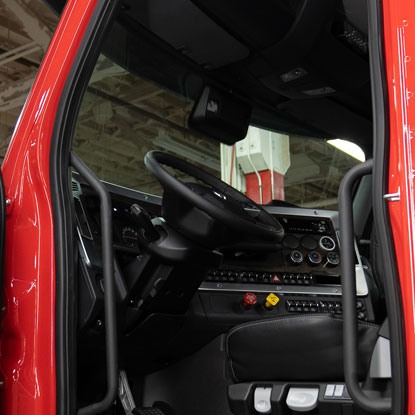 Re-engineered locations for safer and more comfortable entry and exit.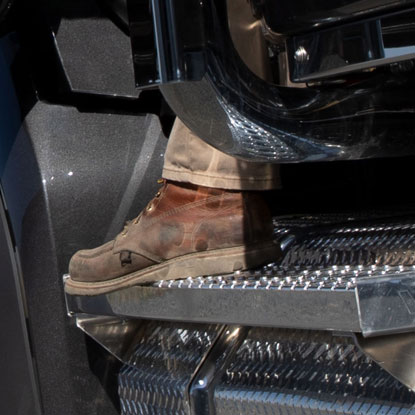 Made from corrosion-resistant aluminum with lower step-in height and improved step width and volcano tread for added safety.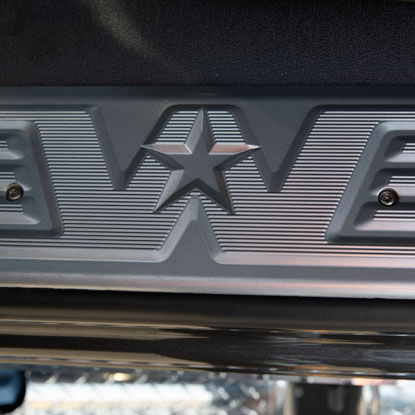 Defines the entry and makes the cab easy to sweep out.
The 47X gives you the options to meet the demands of your application, including a new three-window configuration that increases the rear window area by 77% over previous models and impact-resistant polycarbonate to help protect you from costly window replacements.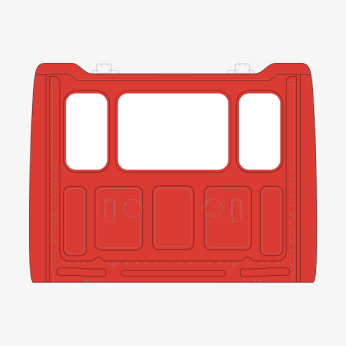 Optional Three-Piece Rear Window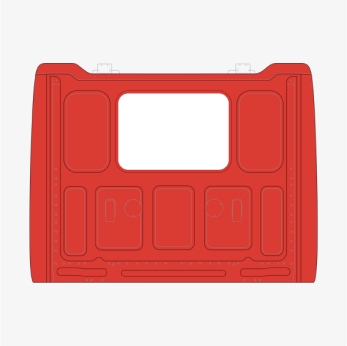 Standard Single Rear Window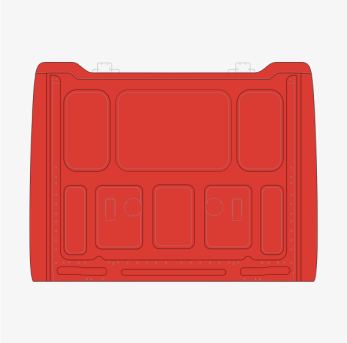 Stronger. Lighter. Better Than Ever.
Engineered to improve durability and performance, as well as provide the best operator visibility possible. The new molded resin hoods on our X-Series trucks are nearly 100 pounds lighter than their previous comparable hoods, and are designed to resist high impacts to last the life of the vehicle. Strength and durability while reducing weight so your operation can haul more and make more.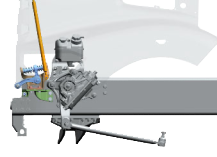 ISO Tech Hood Suspension System
Our all-new exclusive ISO Tech Hood Suspension System absorbs shocks and isolates the hood from brutal road conditions to reduce the chance of cracking and costly hood replacements.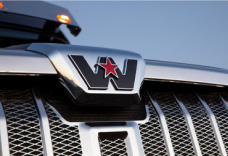 All Metal Brightwork
Features including the intake cover, grille, sun visor and more are built from durable, long-lasting metal.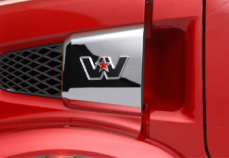 Air Intake Covers
Dual stainless steel air intake covers are fashionable and functional, feeding our new, easy-breathing underhood air cleaner.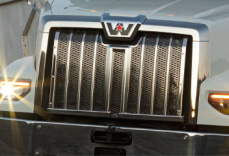 Grille
Mounted directly to the radiator for easy hood opening with bumper-mounted implements, the grille is made from a single piece of stainless steel with external stainless fasteners for easy replacement.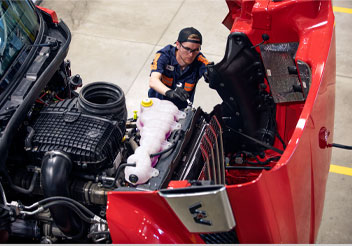 Opening Angle
A 70-degree service opening for easy servicing of underhood components. Standard hood strut lock keeps the hood from closing in windy conditions.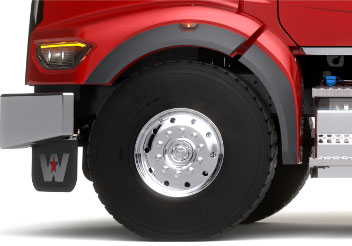 FENDERS
Made from steel-reinforced molded resin material designed to take a hit, and featuring new flares that protect the hood, cab and frame sides from splash and debris.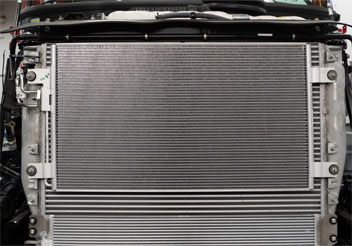 RADIATOR AND COOLING
The standard aluminum radiator delivers excellent cooling performance and reduced maintenance costs. The optional radiator protection package, with a top guard and rear rock screen, is available for demanding applications.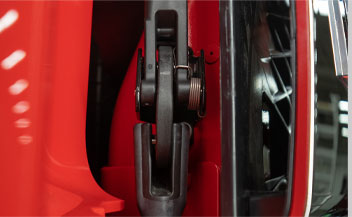 HOOD LATCH
Features self-locating rubber cowl hood mounts to secure the hood and constrain it from lateral movement while remaining easily accessed with a single gloved hand.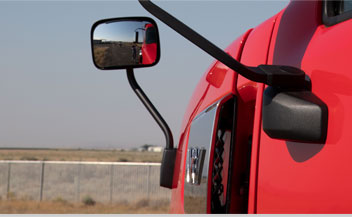 AUXILIARY MIRRORS
Structural provisions for auxiliary mirrors eliminate the need for additional hood reinforcements, reducing cost, time and complexity of retrofitting.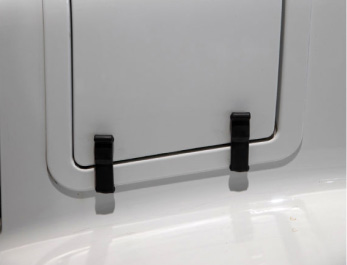 Access Hatch
Optional left-side access hatch available for easy check of key fluid levels without opening the hood or removing front-mounted equipment.